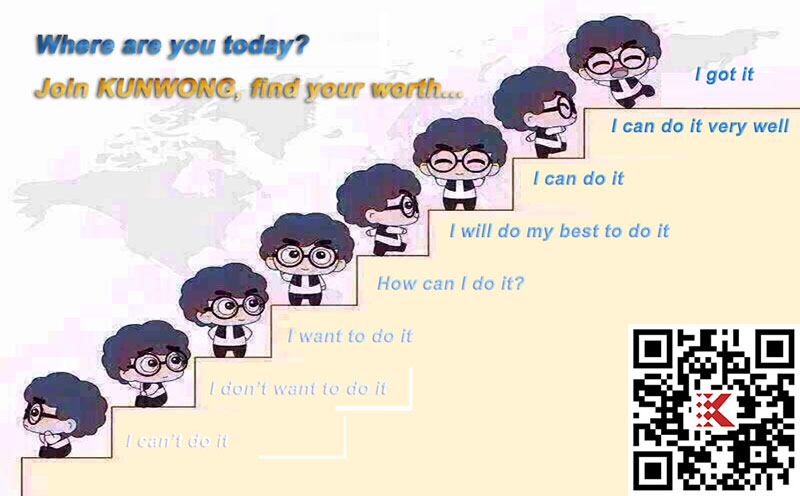 KUNWONG TALENT STRATEGY
--------------------------------------------------------------------------------
1.0 Everyone has the talent, not identify but race horses
We believe that everyone has the talent.
2.0 Create your world with your capability, expertise and diligence. Just in KUNWONG
We have advanced system on product development, manufacture and management and assorted functional organization to supply stage for talents. The shortage of enterprise is not talent but effective system. Everyone has their own advantage, and our goal lies in supplying them with sound environment, effective system and broad development stage.
3.0 Talent is superior to strategy and qualification to longevity
We advocate "people first, things last" principle and regard talent as the first resource in the company; degree, longevity, title and statue are not important, if you have a talent, we absorb.
KUNWONG OCCUPATION GROWTH
--------------------------------------------------------------------------------
1.0 Work environment
We are striving to supply comfortable work environment for the staffs and sparkpluging harmonious team culture.
KUNWONG estate covers 5,500 square meters and has a complete set of working facilities, such as garden green office, spacious and neat working district, central air conditioner pipe spreading everywhere, transparent window and so on.
We always stand by our employees.
2.0 Salary and Welfare
2.1 Salary
We comply with civil salary standard and carry out the competitive salary system according to the enterprise development planning. The employees' wages are related closely with efficiency, which reflect and respect their achievements.
2.2 Encouragement
We set up many prizes to encourage excellent stories and employees who are struggling, innovative and prominent, such as Commendation, Merit, Big merit, Monthly prize, Excellent KUNWONG People Prize, KUNWONG Culture Leader, President Special Contribution Prize, and so on. We are striving to establish kinds of fair and competitive policy and measure to optimize and urge the employees.
2.3 Welfare
Supply the social insurance stipulated by the nation, and handle Shenzhen registered permanent resident for the outstanding talent;
Besides legal rule's official holiday, such as wedding leave, maternity leave and so on, salary will still be paid during the vocation base on the service time;
In KUNWONG, life and entertainment facilities are all ready, such as dormitory, cafeteria, basketball court, feather field, Karaoke multi-function hall, library, and so on;
Supply health examination and birthday present, and organize various activities and traveling regularly.
3.0 Training and Development
3.1 Pre-job training for new staff
We can know the enterprise culture, concept, working environment and circle through this training. In order to help the employees fit in the team quickly, KUNWONG set up an effective system to improve their work, study and lives.
3.2 On-job training
3.2.1 Internal training. In order to establish cooperation with outside professional institution, we invite well-known lecturer to give us some training periodically.
3.2.2 External training. Our employees regularly participate in external training which is organized by social professional institution. The training courses involve excellent enterprise review, forum, production and logistics, sales, banking, finance, human resource, personal development and management and so on.
3.2.3 Outward bound. According to different demand, the company takes some outward bound in order to explore staffs' potential, promotes and strengthens personal mentality. Meanwhile it can deepen staffs' communication, improve personal relationship and upgrade team cohesion.
3.2.4 Mind-set, diathesis and comprehensive skills training for on-the-job employees. This training can improve all employees comprehensively.
3.2.5 Technical skills training for on-the-job employees. Considering different training demand, the company formulates full and accurate training plan. The staff should study more than 2 hours each month and absorb knowledge broadly.
3.2.6 ELN online learning. The online curriculum resources can meet the staff diversification training demand. Every employee should spend more than 180 hours on online learning. The online courses involve 13 main categories with 328 subjects.
4.0 Communication Channel
There are communication channels between company and employees. The employees can give their opinions and suggestions to their immediate boss, even the higher leader according to the open policy. Meanwhile the employees can express their own opinions freely on regular meeting every month.
In KUNWONG, the communication channels include but not limit to the following:
President / general manager mail box / "HQIC" suggestion E-mail CEO@KUNWONG.com
The investigation on job satisfaction / Interviewing in HR centre / "KUNWONG people" collection E-mail HR@KUNWONG.com